Taylor River
Taylor River – Alpine Lakes Wilderness
May 15th, 2004
Marten Falls occurs about 2.5 miles in on the Taylor River Trail. There is a log bridge across Marten Creek at the base of the falls.
This was a nice hike. It wasn't too steep or rocky, so the dogs had a great time. And a big waterfall is always fun to see! We had a nice little picnic on the trail and enjoyed all of the spring flora.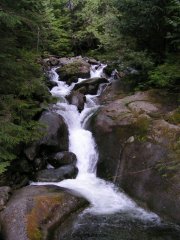 Amy with Lucy and Maisy on the bridge at Marten Creek.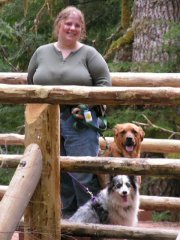 This is Big Creek Falls, at 5 miles in on the trail. There is a concrete bridge over Big Creek at the base of the falls. The falls are much more impressive in person than this picture would have you beleive.  For example, that rock you see in the middle of the picture is larger than a Volkswagon Beetle.